Vehicle guidelines can be found below.

Click the link below to view a printable copy of the
Castlemaine Billy Cart Challenge
VEHICLE GUIDELINES  2018
Scrutineering for all carts will be held the DAY BEFORE
There are four race categories, each with a different track length/incline:
Start Line below Andrew St
Short Course (suitable for younger children and super cruisey adults)
Medium Course (suitable for more confident children and drivers/billy carts that aren't suitable for the Pro course)
Start Line above Andrew St
Semi Pro (halfway up the big hill and getting serious)
Pro Level (from the TOP of Monument Hill- Seriously steep!)There are four extra award categories:
Norma Gray Community Spirit Award Presented by 1951 Australian Soap Box Derby Champion Dr.Norma Gray
Bert Ireland Engineering Award Judged by the scrutineers
Most Salvaged Cart Award Best use of recycled materials
Most Creative Cart Award Trishy Hay Memorial Trophy
EVERYONE READ BELOW
Each participant needs to register online: castlemainebillycart.com.au/entries/
All carts must pass scrutineering for their specific category as outlined below
All participants must present for scrutineering process on morning of race day. NOTE: For SEMI PRO AND PRO LEVEL this will be held the day before.
A fee of $5 per driver (not per cart) is applicable for the Short Course and Medium Course categories
A fee of $15 per driver (not per cart) is applicable for the Semi Pro and Pro Level category
Businesses are welcome and encouraged to enter their billy carts. A billy cart with business branding will be charged $50 for the business entry fee
One person per billy cart – no tandems
All safety gear (as below) must be worn
The same billy cart can be used by multiple drivers, however each driver mustcomplete a separate online entry
Carts will be timed electronically. Fastest time wins
Any vehicles damaged during racing will need to be re-checked by the scrutineers
SHORT COURSE / MEDIUM COURSE
VEHICLE GUIDELINES
(Take off from halfway down Mostyn St)
Rope steering accepted (maximum pivot 22.5 degrees, refer to diagram)
Must have brakes. Ideally on BOTH wheels. Braking on one wheel only can cause the cart to veer to one side. Refer to braking diagram below
Maximum weight 50kg (without driver)
Approved helmet. Helmets are to be of Australian Standard and can be an approved bicycle or motor bike helmet
Long sleeves/pants, gloves, closed shoes must be worn
Knee and elbow pads recommended
No sharp exposed edges
No unsecured or loose items allowed in the billy cart
Must be a foot first driving position- No 'Superman' or 'Superwoman'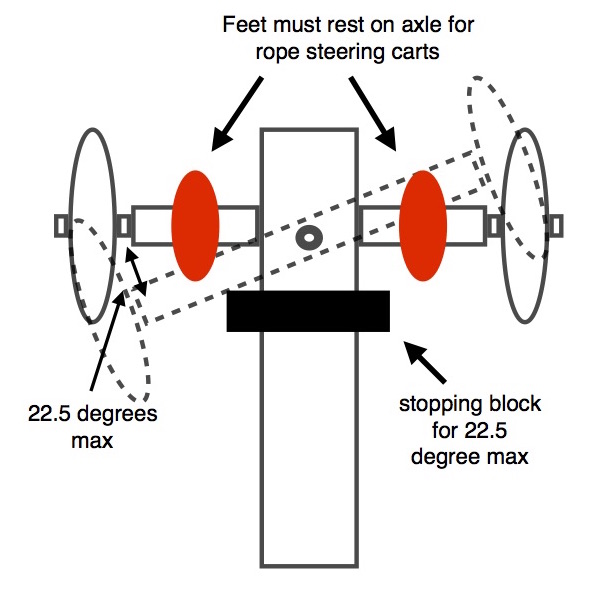 The above stopping block MUST be in place.  
Any entries that fail this check will be deemed unsuitable for use.
SEMI PRO  / PRO LEVEL
VEHICLE GUIDELINES
(Take off from the top of Mostyn St) 
SEMI PRO and PRO LEVEL scrutineering will be held the DAY BEFORE
The track is STEEP and FAST. Speeds approach 60km/h.
WARNING: Race day should not be your test run.
Ensure you have driven and road tested your cart
on a significant hill prior to the day.
SERIOUSLY, this is the steepest billy cart race track in Australia.
Follow the guidelines below and you will pass scrutineering.
GENERAL SAFETY  (Semi Pro / Pro Level only)
All drivers must wear a safety helmet (preferably a motorbike/full-face bike helmet)
Clothing – Protective clothing must be worn. E.g. Motorcycle jackets/body armour, heavy overalls, jeans etc, gloves and boots. These must be presented with vehicle at scrutineering the day before
Minimum age of driver is 12 years
One person per vehicle
Driver must be facing feet first
Adding ballast after inspection will lead to disqualification
The total weight of the vehicle must not exceed 90kg
(Driver not included)
WHEELS  (Semi Pro / Pro Level only)
Minimum rim diameter 8 inch (200mm)
The vehicle must have wheels that are designed to go at speed ie: bike tyres
Castors, trolley wheels, wheelbarrow wheels, pram etc will NOT be accepted
Skateboard wheels not accepted. Sorry bro/sis
Three wheeled vehicles are accepted, conditional to single wheel at the front, two wheels at the back and steering at the front
WHEEL ATTACHMENT (Semi Pro / Pro Level only)
Wheel needs to be supported as it was originally engineered. Eg: A bike wheel needs to have axle supported both sides ie: like a bike fork
Split pins/washer setups are NOT acceptable
Must have a locking nut/spring washers/Nylock
BRAKES (Semi Pro / Pro Level only)
There will be a brake test. Brakes must hold vehicle under load ie: being pushed from rear by scrutineer.
No cable brakes on front wheels, with the exception of three wheeled vehicles . (These brakes can favour one side under load and make vehicle pull to one side)
Rear cable brakes ok
Front hydraulic brakes on a linked system accepted
Drag/plunge brakes are not allowed 
VEHICLE DIMENSION (Semi Pro / Pro Level only)
Track width (distance between wheels on same axle) must be no less than 750mm
The minimum wheelbase (distance between front and rear axle) must be no less than 1200mm
STEERING (Semi Pro / Pro Level only)
Definitely NO rope steering and no steering with feet or other hairbrained approaches
Must have mechanical steering that allows full control at all times. ie: rack and pinion, bell crank or pushbike type set-up (for 3 wheelers)
TOWING EYE (Semi Pro / Pro Level only)
Vehicles preferably will have a 30mm (minimum) diameter steel ring or D-shackle attached to the front AND rear for towing back up the hill
In the absence of a towing eye, assistance to the top of the hill may not be available
PLEASE NOTE:
The head scrutineer has FINAL call over all decisions made.
Please be accepting of this as SAFETY and INTEGRITY of the event is our priority.
Please work with us to maintain the positive spirit of the Castlemaine Billy Cart Challenge.
Dr. Norma Gray Community Spirit Trophy
The Castlemaine Billy Cart Challenge was founded with the intention of bringing people together through fostering community partnerships. We encourage families, community groups, schools, service groups and other community organisations to work together on joint projects. Dr, Norma Gray was one of the early pioneers of Soap Box Derbies and Billy Cart racing in Australia. Norma is a long time Castlemaine resident, has a long time family connection with the race and is a strong supporter of the values and goals of the Castlemaine Billy Cart Challenge.
Bert Ireland Engineering Trophy
This category honors the work of Bert Ireland, engineer of the 'Shooting Star' winner of the 1949 Apex Soap Box Derby. It is judged by our team of scrutineers.
Most Creative Cart- Trishy Hay Memorial Guidelines
This category is in memory of Patricia Hay. No one loved a kooky community event more than Trish. She was also incredibly creative. Hence, we encourage people to get as creative as possible. This category is completely open to interpretation and is open to all billy carts- whether they race or not. Anything goes!
Additionally, carts deemed unsuitable/too dangerous for racing can be entered into this category and still go home with a prize.
The Most Recycled Cart Guidelines
This category is sponsored by The Salvage Yard and will be judged on the best use of recycled/second hand materials. This is in the tradition of billy carts- making something out of nothing.